Bar-be-que "churrasco" at Babalorisha Leo's
One of Mae Maria's dearest friends in Brazil is a Babalorisha of Ochun, named Leonardo. He invited her to bring me to a bar-be-que at his home in the suburbs of Rio - where I could meet him, and other priests. He was going to cook "churrasco" which is meat cooked on an open grill.
We arrived at his home in the afternoon, after our trip to the Orisha shopping mall trip - driven there by Ogan Carlos (Obatala), and accompanied by Carlos' wife Isabelle, and their son Gustavo.
We were greeted warmly by Baba Leo and Wagner (Inle), who had already prepared quite a feast and there was the smell of great things cooking on the grill.
Babalorisha Leo
Mae Maria & Babalorisha Leo
Carlos, Wagner & Leo
Other guests were Egbomi Sulamita (Oya), Iya Rita (Ochun), & Ogan Marcos (Shango), who had picked us up from the airport.
Sulamita and Wagner
Rita, Carlos and Wagner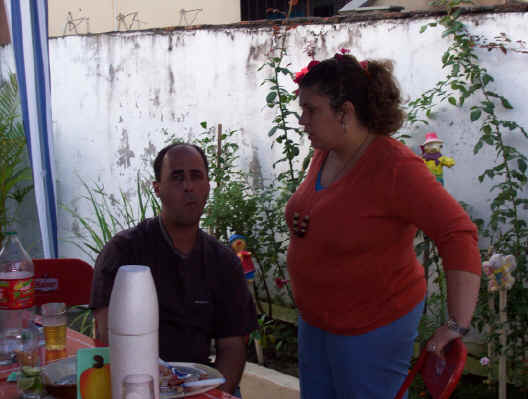 Carlos and Isabelle
Maria and Marcos
We had a fabulous time - Baba Leo is a superb chef and host, and we talked into the night about Candomble and Lukumi - sharing, and laughing.
I was honored to be a guest in his home and hope to see him again when I return. I am already feeling "saudades"(intense feelings of missing someone) for his company.