Denise's Ancestor's
The Snickersville/Bluemont, Loudoun VA cousins:
Scipio's, Carter's, Scott's and Jackson's
For those of you doing family research, the first place you start is usually with parents, and grandparents. You may then branch off into aunts, uncles and cousins.
Growing up, I always heard of different people referred to as "cousin this" and "cousin that" and it never occurred to me to ask "just how are they related to me?" Then when I got involved in family history research as I grew older, and began to ask that question, many of my elders couldn't answer it. They just knew that certain people were "kin".
Untangling the relationships of the Snickersville (now Bluemont) kin was a major task.
I discovered that some of the "cousins" from Bluemont are the descendents of nieces and nephews of my great-grandmother Amelia Weaver ROBERTS.
The surnames above - SCIPIO, CARTER, SCOTT and JACKSON are the first major set of cousins I grew up hearing about. All I heard was that they were from "the land down home".
My earliest memory of going to Bluemont VA was a trip to visit "Cousin Mandy" and "Cousin Bea". I was about six or seven years old - and most of what I remember was that they were dignified older ladies - who wore long skirts, and big hats; had an icebox, an outhouse and a pump in the yard, and no electricity - by choice.
(The old Scipio home in Bluemont - built of logs - it will soon be listed as an historic site. After the death of Beatrice Scipio the house was sold outside the family. The new owner was gracious enough to allow my cousin Margo and me to take photos and come into the house, during our recent trip to Loudoun)
I decided to start with the SCIPIO's first - because I figured that an odd surname like Scipio would be easier to locate in records.
I was partially correct, but also very wrong. Scipio is spelled - or "mis-spelled" many ways in birth, marriage, and census records in Loudoun which made finding the records more difficult.
So far I have found it listed as: Sippy, Scopis, Scapio, Cippio, Scippio and Sippio.
My first census search was for Cousin Mandy and Bea.
I found them listed in census records in 1900 and was also able to identify their parents, Christopher SCIPIO and Rose JACKSON, and their siblings in earlier and later records.
Christopher SCIPIO is mentioned in "The History of Snickersville" (see ROBERTS page) in relation to Delia Weaver, my great grandmother's sister-in-law.
On my research trip to Loudoun with my cousin, the staff at the Balch Library in Leesburg provided me with a photocopy of an article about cousin Bea - written by local historian and Washington Post columnist Eugene Scheel. The article tells of Beatrice Scipio's early days as a schoolteacher and struggle to get better educational facilities for African-American children in Bluemont.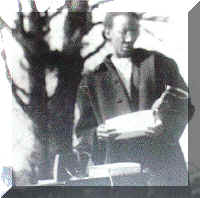 Ms. Beatrice Scipio - schoolteacher
b Oct 20 1891 - d. Mar. 1978
The picture he used to illustrate the story hangs in the small African-American church in Bluemont. A small snapshot of Cousin Bea on the church walls is labeled "Our Queen".
The church has a special history - it had originally been "up on the mountain" where all of my ancestors, and others settled when they gained their freedom - in later years the whole building was moved down from the mountainside into town as the population on the hillside declined.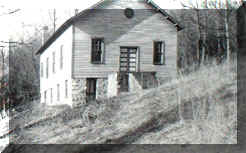 The old church on the mountainside
Ann SCIPIO was the slave of Craven JAMES (see enslavement page). Fortunately for me - I found a record of a slave birth in "Loudoun County, Virginia Birth Register 1853-1879, by Patricia Duncan, that had a surname for the woman who gave birth. Most slave births simply name the mother by first name, and they are listed under the name of the owner.
It read, "JAMES, Craven, SM, John Scipio, 2 Apr 1853,nr Young's Tanyard, Ann Scipio, I-master 11:4[24]". I then looked up the 1860 slave schedule for Loudoun to obtain a list of the slaves owned by Craven JAMES. I found:
50 year old male black *(1810)
45 year old female black *(1815)
16 year old Female black *(1844 )
14 year old male mulatto *(1846)
12 year old female mulatto *(1848)
7 year old male black *(1853 - this is John, listed in the birth records)
7 year old female black *(1853)
listed separately
11 year old female black ( on the page before – employed by Nathan Gregg or Grigg)
Comparing the ages of the un-named slaves listed to census records in 1870 and '80 I could identify the 45 year old female black as Ann SCIPIO and infer from there (no proof yet) that the 50 year old male was her husband John SCIPIO.
I also found this record - which I am still investigating:

The father-in-law of Craven JAMES also owned slaves (Will of Mahlon MORRIS – "all slaves given to unnamed wife – if she already dead they are to be hired out for one year then freed with passage to a free state" Aug 1856 Exor Craven JAMES) Though his wife didn't pass away until 1879, I assume her slaves were not freed, but there may be a connection.
After 1865 John and Ann remained in Loudoun. Their children were:
Mottley Ann - b. abt 1845 married Joshua WATERS, Jan 3 1867 in Loudoun
Cordelia b. abt 1846 married Isaac LEVEL , Loudoun
Harriet A. b. abt. 1848 married Henry M. PERRY, 26 Oct 1871 Leesburg
James b. abt. 1850 married Caroline W. MORELAND, 30 Jan 1873, Loudoun
*Christopher b. abt. 1851 married Rose L. JACKSON 17 Sept. 1874, Loudoun VA
John (Jack) Scipio b. abt. 1853 married Victoria Ella LLOYD 26 Mar 1874 Leesburg
2nd Marriage Victoria POINDEXTER 27 Apr 1876 Loudoun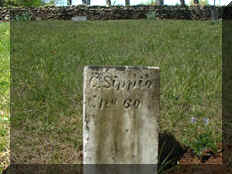 Christopher Scipio grave marker - Rock Hill Cemetery

*Christopher SCIPIO and his wife

Rose JACKSON had the following children:

Lela b. 1876 (listed incorrectly as a son in 1880 census) married Richard Oscar CARTER

and their children were Glova CARTER, who married Alonzo "Lonnie" SCOTT from Loudoun , and

Rosa Lee CARTER.

Rosa Lee CARTER is one of the African-American citizens of Loudoun County featured in a book "The Essence of a People: Portraits of African-Americans Who Made a Difference in Loudoun County, Virginia" , compiled and published by The Black History Committee of The Friends of the Thomas Balch Library, Leesburg, Virginia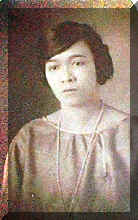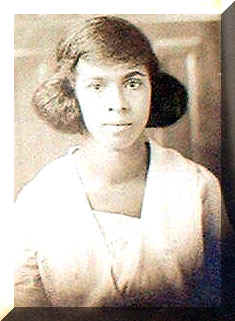 Glova CARTER SCOTT Rosa Lee CARTER
Joshua * b. 1878
* I recently received this information from fellow AfriGeneas Researcher Art Thomas in Ohio:
"Joshua SCIPIO, born 20 Jun 1878, Blumont, Loudoun Co., Va., son of Christopher and Rose Lee JACKSON both born in VA., married to Myrtle ADAMS, died in Belpre, Washington Co., OH, December 13, 1942. Myrtle ADAMS is from my wife's ADAMS lines and was the daughter Sam and Mary (Mayle) ADAMS. She was born Dec. 3, 1886 in Jackson Co., WV. Myrtle passed away August 6, 1984 in Zanesville, Muskinghum Co., OH."
Sally b. 1880
Henry b. Apr. 1882
Robert b. 1885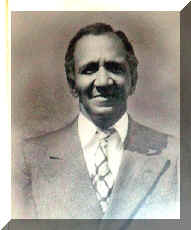 Robert Scipio
This picture hangs on the walls of the church in Bluemont where he was a deacon for 32 years.
Amanda b. Aug 5, 1890 married James Valentine, 07 Nov 1928 in Loudoun, son of Decater Valentine and Venus Lewis. She died Apr 1987
Beatrice b. Oct 1892 d. 1978
Charles b. Aug 1893
no name b. 1900
James SCIPIO and his wife Caroline MORELAND SCIPIO
had the following children:
Blanche, abt 1874

Frank abt 1875

Walter abt 1879

This Scipio story is a work in progress. I'd like to
thank fellow Scipio researcher Ted Thomas, for information
he has provided searching court records in Loudoun.
I now have new. leads to follow in Ohio, and West Virginia.

click the lamp to return home
to Denise's ancestors