Denise's Ancestor pages:
The Bratt's or Bradt's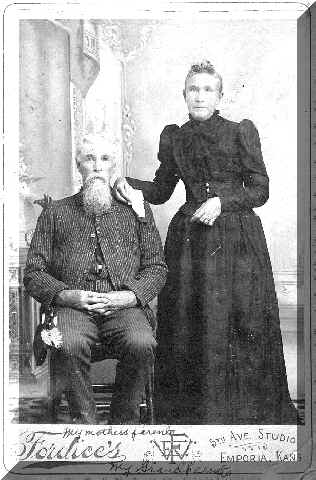 James Bratt and his wife Nettie Hale Bratt
The parents of Edwardeen Bratt, my grandmother's mother.
This is a photograph found in a box left to me by my grandmother Mabel Florence Bodine. Written on the front, it says "my mother's parents". On the back it has other information, in her handwriting but no dates. She wrote "Mother and father of my grandmother Nettie Hale Bratt - Nancy and Orlando Hale, settled in Wisconsin USA. " She also wrote "grandpa came from England, moved to Olpe Kansas, bought farm. In later years sold farm & bought 5 houses in Emporia Kansas. James and Chas (?)Bratt were brothers. Chas Brott of Idlewild Mich, lumber man." I have not yet verified any of this information, other than the census data below, which contradicts my grandmother's note - since James Bratt is listed as born in NY. Much of what she wrote was wrong - as I would soon find out.
Found James and Nettie in 1860 Census, Sauk County WI - but spelling is Bradt:
BRADT, JAMES
State: WI Year: 1860
County: Sauk County Record Type: Federal Population Schedule
Township: Kingston Page: 668
Database: WI 1860 Federal Census Index
He is listed as a 29 year old farm laborer, and Nettie as a 20 year old domestic.
Received this information about James BRATT's civil war record from a descendant:
civil War 6th Independent Battery, Wisconsin Light Artillery
James Bratt

Residence: Prairie Du Sac, Wisconsin Occupation:
Service Record:
Enlisted as a Private on 15 September 1861
Enlisted in 6th Light Artillery Regiment Wisconsin on 15 September 1861
Mustered out on 10 October 1864
Sources:
Roster of Wisconsin Volunteers: War of the Rebellion. (WIRoster) Published in 1886
Have sent for his pension record - am hoping it will contain more information.

In 1870 they are mis-spelled:
BRAND, JAMES (1870 U.S. Census)
Wisconsin , SAUK, PRAIRIE DU SAC, Age 39, Male, Race: White, Born: NY
Series: M593 Roll: 1739 Page: 205
Listed are James and Nettie - this time Nettie is listed born New York, but it is definitely them because in the household is daughter Edwardeen, age 8 and younger sister Madeline.
I then find them in the 1880 Census:
Census Place: Center, Lyon, Kansas Source: FHL Film 1254387 National Archives Film T9-0387 Page 318D
James BRATT Self M M W 49 NY Occ: Farming Fa: NY Mo: NY
Nettie BRATT Wife F M W 38 IL Occ: Housekeeping Fa: NY Mo: NY
Edwardine BRATT Dau F S W 17 WI Fa: NY Mo: NY
Maudilon BRATT Dau F S W 13 WI Fa: NY Mo: NY
Nettie BRATT Dau F S W 8 WI Fa: NY Mo: NY
Henry BRATT Son M S W 7 WI Fa: NY Mo: NY
Blanche BRATT Dau F S W 4 NE Fa: NY Mo: NY
Richard BRATT Son M S W 1 KS Fa: NY Mo: NY
Edwardeen Bratt Bodine and George Emerson Bodine
my great grandparents
Other Bratt photos: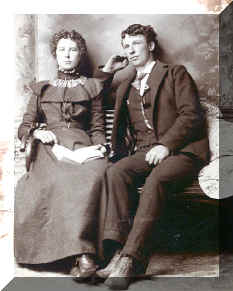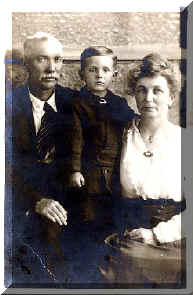 Jessie and Henry Bratt - children of Nettie and James in 1892 Bessie Bratt Evans and husband Daniel Evans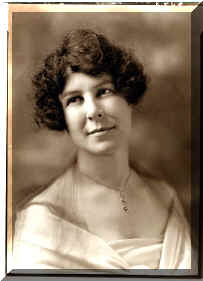 Jessie Bratt Nettie Hale Bratt
My grandmother wrote "Aunt Jessie Bratt Hill, born August 21, 1881." On the back of the picture of Bessie Bratt Evans is a clipping of an obituary and notes, "Bessie Bratt Evans, born in Wisconsin, 1873. moved to Olpe Kansas in 1879. Married D.D. Evans 1889. Died in 1937."
I am currently looking for information on the Bratt and Hale families. Will update this page as I learn more.
UPDATE - 2004
Now have an obit for Nettie - thanks to the folks at the Flint Hills Genealogical Society:

"The funeral of Mrs. James Bratt was held Tuesday afternoon at 2'oclock at the Grace Methodist church. Rev. Ramsburg conducted the services and interment was made at Maplewood cemetery.

Mrs. Bratt died last Sunday. She was born in Delaware county, New York, in 1841. Her parents were Orlando and Nancy Hale. She was married to James Bratt in 1859. The following year they moved to Wisconsin and from Wisconsin to Kansas where they have made their home for the past twenty-seven years. The following children survive her: Edwardeen Bodine, Maude Girth, Bessie Evans, Blanche Senn, Richard Bratt, Jessie Evans and James Bratt..."


Tombstone of James and Nettie Hale Bratt
Maplewood, Memorial Lawn in Emporia
photo by cousin Robin Toms, 2005

I had a difficult time locating the parents of James Bratt, and wading through various mis-spellings of the name - he's listed in Wisconsin in 1870 as "Brand". Working backwards:


In 1850 he was recently indexed in the household of his father :

Name: James Bradt
Age: 19
Estimated Birth Year: 1830
Birth Place: New York
Gender: Male
Home in 1850
(City,County,State): Tompkins, Delaware, New York
Page: 327
Roll: M432_495

Here is where the confusion got started - in C. Biasco's book on the Bradt's - he is listed as "Jane" (female) daughter of James and Sophronia Culver. It was an easy error to make because the original census record is very faint - hard to see the "s" on the end of the name - and the "m" for male was overlooked.

Plus the record from 1840 didn't seem to be available.

I have now found the 1840 census record - again mis-spelled for his father James Bratt :

Name: Pratt, James
Township: Tompkins
County: Delaware
State: New York
Year: 1840
Roll: M704_274
Page: 383
Image: 245

Have cross-checked this record with both 1850 and 1830 and this is James Bratt/Bradt - with the same neighbors.
1840 census indicates that there are two male children - one under 10 (James - who would have been 9) and one between 10 and 15 - which would be his older brother August (or Augustus.
1830 census:
Name: Brodt, James Township: Tompkins County: Delaware
State: New York Year: 1830 Roll: 89 Page: 208
1 male under 5 (Augustus)
1 male of forty and under 50
1 female under 5
2 females of 5 and under 10
2 females of 10 to fifteen
1 female of 30 and under 40
Listed as neighbor of both Oliver Hale and Orlando Hale ( Orlando is the father of James Jr's wife Nettie Hale Bratt)
1820 census
Name: James Bradt Township: Tompkins County: Delaware State: New York
Year: 1820 Roll: M33_65 Page: 90 Image Number: 100
1 in column 5 - one male 25 to 45 - James
6 in column 7 (females under 10) - Marie, Susan and who knows else
1 in column 10 (females 26 to 45)- Sophronia
1 in column 13 (number of persons engaged in agriculture) James Sr.
1810 census:
| | | |
| --- | --- | --- |
| Name: | | Bratt, James S |
| Township: | | Tompkins |
| County: | | Delaware |
| State: | | New York |
| Year: | | 1810 |
| Roll: | | M252_26 |
| Page: | | 419 |
| Image: | | 218 |
James Sr. born abt. 1784 is the son of Jacobus Bratt/Bradt b. 09 Jun 1745 and Susanna Peek.
1800 census:
His father Jacobus Bradt:
Name: Bradk, Jacobus
Township: Walton
County: Delaware
State: New York
Year: 1800
Roll: M32_22
Page: 1302
Image: 369 1 1 2 - 1- - 1 - 1 - -
1790 census:
Name:

Jacobus

Bradt

Township:
Schenectady
County:
Albany
State:
New York
Year:
1790
Roll:
M637_6
Page:
44
Image:
0133
Free White Males to 16: 2
Free White Females: 4
Slaves: 7
Imagine my surprise when I found slaves recorded with Jacobus Bradt. Here I am - the great granddaughter of slaves, with a slaveholding ancestor. How ironic. His grandson James fought in the civil war for the Union, as did Augustus Bratt, brother of James.
Will be making a trip to Schenectady NY to see what I can uncover about the slaves held by the Bratts.

Jacobus was the son of Samuel Bratt b. abt. Apr 1707, & Catharina Van Petten, and was the son of Samuel Bratt, b. 1659 and Susanna Van Slyck. Interestingly there seems to be quite a genealogical debate about Susanna's father, Jacques Cornelissen Van Slyck, who is the son of a Native American mother, and Cornelis Antonissen Van Slyck. I will leave that battle to others, at this point.

Baptism Record of Schenectady Reformed Church, 1694-1811
Baptismal Date: 30 Apr 1707
Father: Samuel Bratt
Mother: Susanna van Slyk
Item Number: 224
Child: Samuel
Sponsor: Dirk Bratt; Jannetje van Slyk


Samuel Bradt was the son of Arent Andriessen (later Bradt)& Catalyntje De Vos, born in b. 1659 Rensselaerswyck (later Albany) NY.

The rest of the history of this line, as it spread across America is well documented by C. Biasco and other Bratt/Bradt researchers. http://www.schenectadyhistory.org/families/bradt/index.html
http://pages.zdnet.com/bradtfamilysocie/bradtfamilysociety/id14.html
If you have any other information, please contact me at DOlivervelez@hvc.rr.com
click lamp to return to Denise's main ancestor page