Denise's Ancestor pages:
The Oliver's
Roots in Wilson County TN, Davidson County TN, Wabaunsee and Shawnee Counties KS
Surnames: Oliver, Officer, Thompson, Jones, Edmondson, Perkins, Scott, Wilson, Gunning, Eason, Austin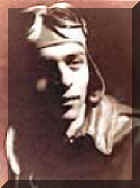 My father, George Bodine OLIVER, born in 1919, in Chicago Illinois
was a Tuskegee Airman. He fought for America in WWII , and he fought to bridge the gaps between whites and blacks, suffering terrible discrimination for being the child of both worlds. He played tennis professionally. but was banned from competing against whites. He later became the first "Negro" to integrate a major Broadway production, which was reported in Life magazine. Thanks to Jose Ferrer, the director and star of Cyrano, on Broadway, my father was given a part. Daddy also had a major role in "Strange Fruit" on Broadway, cast as a "tragic mulatto".
He never got to play Hamlet. Blacks back then didn't get to play Hamlet. He retired from the theatre, and went on to get a PhD in English Literature and Drama, and taught at both historically black colleges, and white universities.
My father grew up in Chicago. I found a page from an old magazine ad - for The People's Life Insurance Company, dated May 1921, which has my dad as a baby in it:

According to notes in my grandmother's handwriting this is a picture of the house he grew up in - or at least as it says " Our 2nd house 6840 Langley Ave Chicago. Moved in Xmas eve 1927 2 apartments":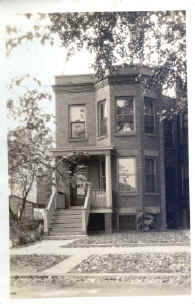 He attended Englewood HS graduating in 1937.
He met my mother Marjorie Weaver Roberts at West Virginia State College, and married her during wartime.
Here are copies of their obituaries.
They had two children - Denise Roberts OLIVER (that's me) born in Brooklyn, NY while my dad was still working as an actor. I have an interesting collection of letters, telegrams and notes my parents received from theatre folks when I was born. I'll be posting them to my memorabilia page when I get a chance.
George Shelby OLIVER, my brother, who we called Jordy, b. March 8, 1952, also in Brooklyn, died in April of 1977 and is buried with my parents in Maple Grove Cemetery in Queens NY.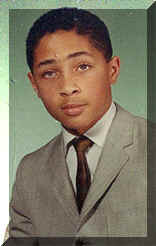 George S. Oliver
My fathers parent's were George Shelvy Oliver and Mabel Florence Bodine :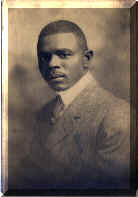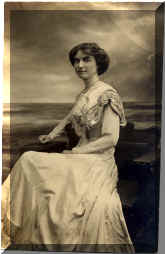 My Grandfather George Shelby OLIVER born January , 1875, in Davidson County, Nashville TN, died March 28, 1955 in Brooklyn NY. His second wife Mabel Florence BODINE, born in KS, was my grandmother.
They were married in Milwaukee, Wisconsin, Dec 4th 1915.

I remember my grandfather, but not very well , because he died when I was 8 years old.
He worked for the post office in NY - I found this old clipping in my grandmother's papers - honoring him at the time of his retirement, after 22 years of service, which started in 1917.

.
I also knew almost nothing about his family - and never met any Oliver relatives - except my father's older half-brother Jewell - who I met once, and I vaguely remember meeting Jewell's daughter Marcella - perhaps once. I know that my grandmother had met some of my granddad's family from Kansas, and had pictures of some of them - but I never questioned as a child why I didn't know any of them - just like I knew none of my grandmother's family either.
Now - as an adult, I realize that an interracial marriage in 1915, had severe repercussions - on both sides - black and white, and that is probably part of the reason I never met either sides of my dad's family. I also had no idea until this year (2002) that my grandfather divorced his first wife, or she divorced him - which must have been quite serious back in the early 1900's.
Here's what I do know, or have found out:
My grandfather worked for a white family named Auerbach, in Topeka, as a chauffer and he is depicted above in a Packard, with chauffeur's cap. He also ran a billiards parlor, as the above business card shows. His nickname was "Hib". He had a son Jewell by his first marriage to Mary M OFFICER, which ended in divorce. The only record of this that I have received so far is the date he filed for marriage license in Topeka :
Oliver, George S. Officer, Mary M. 01/05/1899
I also found them married and listed in 1900 census in Topeka with their 1 year old son Jewell (who is incorrectly listed as a daughter in the census), and in the 1910 census in Topeka, with Jewell spelled "Joel". Mary is listed as born in KS but her family is from TN.
Jewell Stillwell OLIVER - born April 17, 1899 in Kansas.
I have very little information about Mary OFFICER, Jewell's mother. From a few comments my aunt made I think she remarried after she and my grandfather divorced - my aunt says my grandmother met her on a visit back to Kansas. I would be interested in hearing from anyone researching this line.
Children and grandchildren of Jewell S. OLIVER
Jewell OLIVER, born in Topeka KS in 1899, married Inez WILSON, and they had a daughter Marcella Beatrice Oliver, who was born in Topeka KS September 29, 1927.
According to Marcella's birth certificate, Inez Wilson was born in abt 1895 in Forth Worth TX. she is listed as age 32 at Marcella's birth. Jewell was 28.
Recently, going through some old photo albums of my dad's I found a fuzzy snapshot of Inez, Marcella and my father - together. They met him at the Tuskegee Airman's Convention held in Los Angeles, CA in August of 1990.
I don't know if Inez was living in CA but her daughter was. I don't know if Inez is deceased, but I assume she is since she isn't mentioned in Marcella's obit.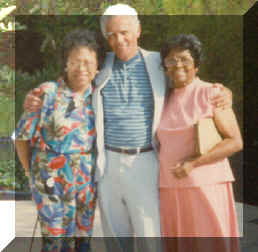 Marcella Oliver Gunning Eason, George Oliver, and Inez Wilson Oliver
Jewell later married a Margie SCOTT from Los Angeles, CA, who was born Dec. 6, 1924. They married in Palm Springs, lived in California and had a son Jewell Jr.
They moved to Muskegon, MI, one year before Margie's death at age 35.
Obit for Margie Scott Oliver:
Mrs. Oliver Dies at 35
Mrs. Jewell Stillwell Oliver, 35 of 712 W. Webster Avenue died at Muskegon Osteopathic Hospital Thursday after a short illness.
Born in Los Angeles , Dec 6, 1924 , Mrs. Oliver was raised and educated in that community. The former Margie Scott, she married Jewell S. Oliver in 1950 in Palm Springs Calif. , and resided in California until coming to Muskegon in August of last year.
Besides her husband, of St. Louis Mo , she leaves one son Jewell, Jr., at home.
I have no idea what happened to Jewell Jr. He is not mentioned in his father's obit. I do have a photo of Margie's headstone, thanks to Irita Goins Canady: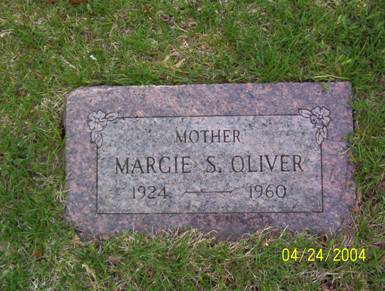 Oakwood Cemetery
From the inscription, it seems like this headstone was put up by her son - Jewell Jr., and not her husband Jewell Sr.
I would be interested in any information on the whereabouts of Jewell Oliver Jr. - who was probably born in about 1951 or 52. Last known residence - St. Louis MO in 1960.
Jewell oldest daughter Marcella was born in Topeka KS.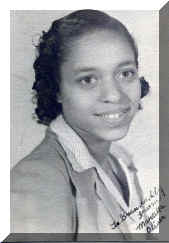 Marcella OLIVER (GUNNING, EASON)
I remember my parents mentioning the name of Marcella's son - but was not sure that it was "David". My aunt and cousin looked through my mom's old phone book and found Marcella - married to a William EASON in CA.
When I began to search I found that Marcella had died. A volunteer for Random Acts of Genealogical Kindness (RAOGK) sent me the following obituary:
Press Enterprise
January 5, 1991
Moreno Valley
Marcella Eason
Services for Marcella B. Eason,
63, will be Monday at the
Jerusalem Foursquare Church in
Riverside . She died Dec. 31 at
Kaiser Foundation Hospital in
Riverside .
Burial will be in Inglewood Park
Cemetery
Mrs. Eason, who was born in
Topeka , Kan. , lived in Moreno
Valley for 11 years. She was a real
estate broker for Tarbell Realtors
for 6 years.
She was a member of the River-
side Board of Realtors; Consolidat-
ed Realtors Board of Los Angeles;
Jerusalem Foursquare Church;
and the Pastor's Aid Committee.
She is survived by her husband,
William, of Moreno Valley ; a son,
David Gunning of Cerritos ; two
step-sons, Curtis and Robert of Los
Angeles; two step-daughters, Loret-
ta of Los Angeles and Sharon of
Altadena.; and 10 grandchildren.
There was a notice of death in the same paper on Jan 3 that stated only:
Eason, Marcella B. age 63 yrs. died Dec. 31, 1990 .
Tillmans Riverside Mortuary, Directors.
I am now searching for Marcella's son David Oliver GUNNING, or any of his step- brothers and sisters; the sons and daughters of William EASON.
Jewell OLIVER returned to California after the death of his second wife Margie SCOTT and later re-married, I think to an Hispanic woman. They had a son "Pete" or "Pedro". I found a picture of him in my grandmother's photo album (below) - it must have been taken in the late '60s or 70's because of the afro hairstyle.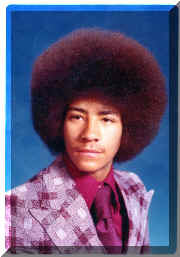 Pedro or Pete OLIVER
I would love to locate my cousin Pete, and Marcella's son and children, and the as yet unknown cousins in the Tennessee, Kansas and California branches, or from anywhere else.
Jewell OLIVER died Sept 9th, 1973 in Los Angeles California.
His obit:
From the Los Angeles Sentinel, 4 October 1973: "Funeral
: services for Jewel S. Oliver, formerly of Topeka Kans., will be
: conducted at 1:00 p.m. today (Thursday) at Angelus Funeral Home
: Chapel with burial at Sawtelle Cemetery. Mr. Oliver, who died
: Saturday, is survived by a son Pete and daughter Marcella Oliver
: Eason."
He was buried in a military cemetery in LA:
OLIVER, JEWELL S
CPL US ARMY
VETERAN SERVICE DATES: Unknown
DATE OF BIRTH: 04/17/1899
DATE OF DEATH: 09/29/1973
DATE OF INTERMENT: 10/04/1973
BURIED AT: SECTION 70A ROW K SITE 12
I have not located Jewell in the census in 1930 or found his wife Inez and daughter Marcella, who would have been 2 or 3. I cannot locate him in the 1920 census either.
I did recently find Jewell's WWII service enlistment record at the NARA website:
| | | | |
| --- | --- | --- | --- |
| Column Title | Value | Meaning | Notes |
| | 38280419 | | |
| | OLIVER#JEWELL#S######### | | |
| | 85 | TEXAS | |
| | 113 | DALLAS | |
| | 8536 | DALLAS TEXAS | |
| | 01 | | |
| | 10 | | |
| | 42 | | |
| | PVT# | Private | |
| | 8 | Private | |
| | BI# | Undefined Code | |
| | 00 | General Officers of the line whose signature contain the insertion - "United States Army" | |
| | # | | |
| | 5 | Enlistment for the duration of the War or other emergency, plus six months, subject to the discretion of the President or otherwise according to law | |
| | ### | | |
| | 4 | National Guard in Federal Service, after 3 months of Discharge | |
| | 73 | KANSAS | |
| | 99 | | |
| | 2 | Negro, citizen | |
| | 1 | 1 year of high school | |
| | 158 | MICROFILM EQUIPMENT REPAIRMAN | |
| | 3 | Separated, with dependents | |
| | 7 | Selectees (Enlisted Men) | |
| | # | | |
| | 1314 | | |
| | 6.80# | | |
Here is information from his WWI Draft registration:
Name: Jewel Stilwell Oliver City: Topeka County: Shawnee State: Kansas Birth Date: 17 Apr 1899 Race: Black Roll: 1643921
Draft Board: 1 Occupation, Porter Nearest Relative, Mary Oliver (mother) Address 1203 Lane Street Topeka KS
These are my grandfather George Shelby Oliver's parents, Louise Williams and John Oliver :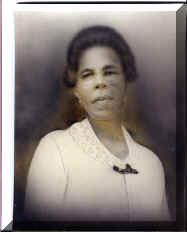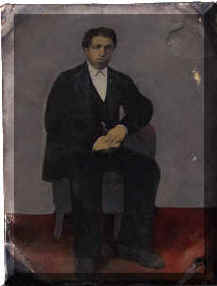 The picture of John is an old tintype. On the back in small print was written his occupation - printer. I am currently waiting for records to arrive from NARA - which may confirm his Civil War Service in the 17th Regiment US colored Infantry.
I only knew that they lived at one time in Nashville Tennessee, where my grandfather was born, which I found out in an old news clipping:
From an obituary in The Topeka Daily Capital, (Monday April 4, 1955):
George S. Oliver, born 1875 In Nashville Tenn. died Monday (March 28, 1955) in Brooklyn, NY. His family moved to Maple Hill when he was 16 then to Topeka Kansas.
As of Dec 2002 - my information changed - the family from Wilson county TN who moved to Maple Hill (documented below) are not my grandfathers parents.
I learned that my grandfathers mother "Lou", remarried and was living in Nashville in 1900 with a George EDMONDSON.
According to her marriage certificate, in 1899 to George Edmondson - she is listed as Ella Williams. I believe her name may have been Lou Ella.
With her are two children by a previous marriage - Reuben THOMPSON, born 1889 and Ernest JONES, born 1880 and a one year old daughter Eva EDMONDSON. George and Lou EDMONDSON move to Kansas some time after the birth of a daughter Ophelia, in 1901. She later marries a George KELLER. George EDMONDSON dies (perhaps), Lou remarries - a Mr. PERKINS, who is dead by the 1920 census where Lou PERKINS is listed as a widow.
Reuben THOMPSON marries a Cecilia POOLE in Topeka KS and they had a son Kenneth Poole Thompson, born December 6, 1912.
Cecelia Poole is listed as born in Carthage MO (Jasper County). Census records indicate her father was from Canada.
Reuben and Cecilia divorce, and she remarries an Earl GARRETT. They are listed in Topeka census.
Reuben is later found living with my grandfather in Chicago in 1930, listed as his half-brother. I remember my father referring to an "Uncle Reuben" but don't remember meeting him.
I recently received this information from KS:
Louisa Perkins died 19 May 1925 in Topeka Kansas and is buried in the Mount Auburn Cemetery . Funeral services were held in the Primitive Baptist Church, and the mortuary was the Stone Street Funeral Home, in Topeka (no linger in existence)
Her burial was signed for by a Mrs. AUSTIN. This was another new surname for me - but upon investigating the census in 1930 - I find her daughter Ophelia Edmondson - married to a John Wesley Austin. They have a daughter Grace Austin, born in 1921. In the household is sister Eva - now married & divorced - surname WOODS.
I have also now received my great grandmother Louise's death certificate from Kansas.
Death Certificate for Louise Perkins
Her parents names are listed as Frank Williams and Fanny O'Neil. The person who gave the information was Mrs. John W. Austin.
Though Louise's death certificate states she was born in TN - several census records indicate her birthplace as AL - so I am now searching the 1870 census to see if I can find a Louise, Lou, Louella or Ella Williams with parents named Frank and Fanny in either AL or TN. No luck yet.
I have also been in touch with a very nice gentleman who researches AUSTIN in KS, and hopefully will be learning more about her daughter Ophelia's marriage to John. W. Austin.
I have never found my grandfather, George S. Oliver in census records with either of his parents.
I did locate a record for my him living in this household in Maple Hill in the 1895 Kansas agricultural census:
Oliver, Robert 52 M Mul Tenn (birth) Farmer (born abt. 1843)
Hariett 38 F " "
George H. 21 M " " (this is an index error it is George B. Oliver)
George S. 20 M " "
Birdie G. 16 F " Missouri (birth)
Bartley S. 14 F " Kansas (birth)
Amanda 12 F " "
What I don't know - is what is his relationship to this family - is he a nephew or a cousin - all i know is that he is related and some of these people are in a picture with him (see below).

This was followed by finding this family listed in the 1880 Federal Census, in Newbury, KS:
Robert Olliver 37
Hariet 25
John 7
George 6
Berdy 1 (this is Birdie in 1895)

There are two entries in the 1905 census. The first is in the city of Maple
Hill and the second is in Maple Hill Township and are as follows:

Oliver, Harriett 50 F Bl Tennessee (birth)
George 26 M " "
Madge 7 F " Kansas (birth)
This George is NOT my grandfather

Oliver, Robert 62 M Bl Tennessee (birth)
Farmer
Glenn, Walter 34 M " Kentucky (birth)
Farmer
Birdie 26 F " Missouri (birth)
Clarence 11m M " Kansas (birth)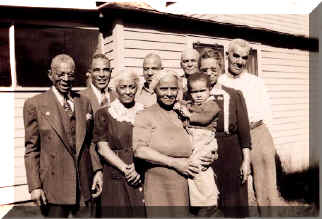 A snapshot of my grandfather with family members in Kansas
The people identified in the photo with my grandfather are - a Leslie Officer, Walt Glenn (with a ? next to it) Amanda, Birdie and a Ronnell Bennett.
With the help of members of a Kansas mailing list - I was able to send a letter to an elderly lady who was descended from the cousins of my grandfather in Kansas. She sent me a long letter with a lot of new information - which I am now attempting to research.
ROOTS in Wilson County TN
It seems my grandfathers uncle(?) or cousin (more probable) - Robert had several brothers - and that the family was from Wilson County TN - prior to moving to KS. One of the brothers was named Shelby OLIVER - and my grandfather's full name was George Shelby OLIVER, so my assumption is that his middle name was given to him because of his uncle or cousin.
Of course - assumptions are simply that - he could be middle named Shelby for a county in TN, or because his mother's maiden name was Shelby. Hopefully more research will reveal the truth.
Here is the information she sent - and what I have been able to verify so far:
Robert OLIVER had 2 brothers, Shelby OLIVER and Douglas OLIVER, and 2 sisters; Lucy and Amanda OLIVER.
Shelby OLIVER married a Sarah Ann (unknown maiden name)- and they had 15 children, 10 are listed as living according to 1900 census Wilson County TN , which lists them as married 30 years. D.o.b for Shelby as 1850, Sarah Ann 1852. In the1870 census of Wilson Shelby is listed as 30 - which would make dob abt. 1840. What is odd is that I can't find Shelby and Sarah Ann Oliver in 1880 though the same neighbors from 1870 are there, a family named GOODPASTURE. They pop up again in the 1900 census. Some of the children were:
George OLIVER m Neppie - 6 children - Charlie, Minnie, Horace, Pauline, George and Alfred. I find George and wife Neppie living with Shelby in Lebanon TN, in the 1900 Census. They later move to KS.
This George is NOT my grandfather
Annie OLIVER m Courtney MILLER in Lebanon , March 16, 1906 - 3 children Oliver Dee, Mary Lee and Maxine
Sophie OLIVER * - not found on census, but listed in letter to me

John OLIVER - 2 children Flora and Nellie
Horace OLIVER
Bessie OLIVER - 2 children (one named Mary who is the lady who contacted me) and Joe
Kit OLIVER (listed as Kittie in 1900)
Mamie OLIVER
Edgar OLIVER - 1 child Edgar Jr.
Wendell OLIVER - 4 children - Wendell Jr, Edward, Hilda and Dorothy
Robert OLIVER and wife Harriet had 6 children:
John OLIVER (nickname Yock)
Mabel OLIVER
Birdie OLIVER m Walter Glenn, children Clarence, Robert, Walter and Harriet
Bartley OLIVER - children Elizabeth, Milton
Amanda OLIVER
Douglas OLIVER (brother to Robert and Shelby) had three children (according to the letter I received) I have found no trace of him or his children anywhere:

Fred OLIVER
Elmer OLIVER
Sophie OLIVER
I am not sure I have gotten this straight - and as yet have no married names for a lot of the female family members.
Other OLIVER's
I have a photo of my grandfather's cousin Mary Oliver but know nothing about her other than that my grandparent's received lots of postcards from her in her travels around the world. Do not know how she was related to him.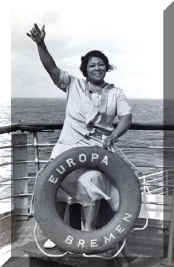 Mary OLIVER