The Roberts continued...
James became a dentist, and after losing his eyesight became a mortician. Hannah attended DC teachers college, and then married. Martha married , but her husband Louis Varick, who was much older than she, died after they were only married 3 years Born about 1873 in NY, his father's name was Daniel Varick, a barber, and was reportedly a descendent of one of the founders of the AME Zion Church. Great Aunt Martha was the first black woman to work as a barber in a Washington DC Department store.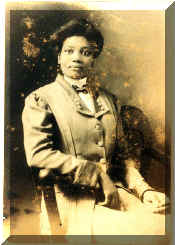 Great Aunt Martha Roberts Varick, who raised my mother and her sister and brothers.

<
--Brooch with photo of Martha and Louis Varick
Brooch with picture of the mother of Louis Varick - still unidentified -->
My grandfather Dennis moved his family several times.
The oldest boys Donald and Douglas were born in New London, Connecticut. Douglas died soon after he was born. The family then moved to an apartment in the Bronx, where my mother was born in 1918.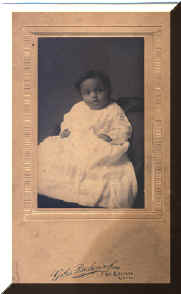 Donald Payne Roberts at age 4 months, and at age 7 in 1916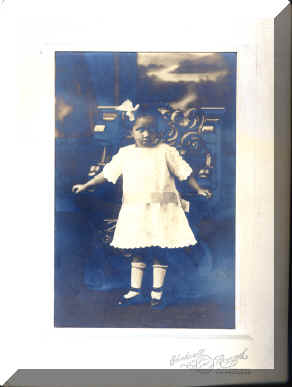 Ella Mildred in 1916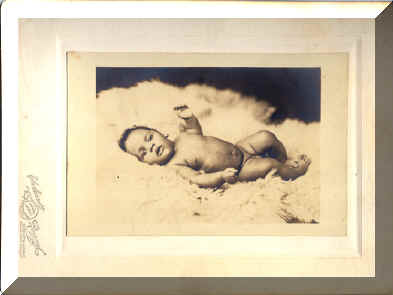 Dudley Roberts 1916
When my grandmother Ella Mae died in the Bronx, 10 months after giving birth to my mother, the widowed Martha Roberts Varick came to live with the family to take charge of the raising of my mother and her siblings, at the request (or orders) from Dennis. He did not want his children split up. The family then stayed for about six months in Salisbury MD, with Great Uncle Joseph, while Dennis looked around for another home. He bought one in Washington DC, at 1523 T Street NW. This was close to where great grandmother Millie was living - her daughter, Hannah Roberts had married a William WINDER, who worked as a caretaker at the Oak Lawn Estate - where the Hilton is today on Florida Ave. The Winder's and great grandmother Millie lived in the caretaker's home on the estate, and Millie died there in about 1921.

Great Uncle Joseph Roberts in the meantime, had moved his medical practice from Salisbury MD to Philadelphia. One day, granddaddy Dennis came home and informed Martha he had sold the DC house, and the whole family would be going to live with Joseph in Philadelphia. Martha was to take charge of Joseph's home, and the family would stay together.
There are family stories about the Roberts brother's - and their participation in an armed battle during a racial disorder in Salisbury , Maryland, but as yet I have no other details.
My Aunt has told me that Uncle Joe was written up in a newspaper in Salisbury MD for his heroic efforts attending the sick, both black and white, during the influenza epidemic of 1918. I am still searching for this news clipping.
My Great Uncle Dr. Joseph Walker Roberts in Philadelphia

I would like to find out more about great grandfather Presley, the stone mason. The only family story about him is that he was a money lender and that people who owed him money, after his death, refused to honor their debts. Great grandmother Amelia, who was illiterate, got cheated.

The family did however, hold on to some of our land in Bluemont, though much of it was lost due to some chicanery about deeds, and I inherited several acres, which I still own.

I was able to find out more about them through archival records, and from people on the internet who aid others in genealogical research. Before using the net, I did not know Amelia's full name, nor did I know the name of her husband, and definitely didn't know the name's of their parents.

VA Surnames related to the Roberts - directly and by marriage: Weaver, Fields, Jackson, Scipio , Varick, Scott, Williams, Fields, Mason, Winder, Young, Hall, Perry

The following are some of the data I received from cyber-citizens. I thank them for giving me, and other members of my family pieces of our history.

This is an except from a book written by Jean Smith on the history of Snickersville, sent to me by Bob Hoffman:

On This mountain side, James Fields, a free negro, already had

bought land. Now It was to become a haven for those negroes who

were just becoming aware of the privilege of home ownership. One of

the first to buy was Benjamin Franklin Young, who bought 17 acres

from Dr. Plaster in 1871. Later that year, Dr. Plaster sold Dennis

Weaver 6 acres. Dennis Weaver built a house on this mountainside,

on the narrow road that bounds the Carrington house, winds past the

old school, and twists up behind the breastworks of the war that

brought freedom. Dennis and his wife Delia cleared the woods for

lawn and garden and from This house went back and forth to the

village - Dennis to help the farmers bring the scorched earth back to

productivity and Delia to care for countless of the households and

children. One of these children remembers today her spankings.




Aunt Delia cared for others until about 1923, when she herself

needed care. It was hard to persuade someone to live up in the woods,

so Delia, in return for her services which she had agreed to render me in

waiting upon me and nursing me during my last illness I willed

Winifred Scott all her household and kitchen furniture and all her

money, except $100 which she bequeathed to Christopher Scipio.

Aunt Delia was healthier than she anticipated and by 1931 Winifred

Scott felt she could no longer render those final services (probably

got married) and the will was changed to name Glovia Scott as the

nurse. Delia Weaver lived until 1935 and now lies buried beside

Dennis, not on the mountain, but only a few miles away, looking back

to the village in which they lived in slavery and the home which they

built in freedom.




Aunt Delia (Fields) was my great grandmother Amelia's sister-in-law, who married Dennis Weaver in 1870.

In Loudoun County, Virginia Marriages after 1850 Vol.1:1851-1880 by Duncan and Frain:

>Dennis WEAVER & Delia FIELDS ; 3 Nov 1870; Leesburg;C;s/o Lewis & Delia WEAVER, 24,sgl Ldn, Ld, laborer; d/o James and Susan FIELDS, 22 sgl, Ldn, Ldn; 3 Nov 1870(l); James Fields (age); AW(off);nd(r)

Interesting that Dennis Weaver married a woman with the same name as his mother, which had me confused until I got the information about Delia's death in 1935, which pointed out there were 2 Delia's. At first I thought "Aunt Delia" was Amelia's sister. Delia Fields Weaver, Amelia's mother died 6 Dec 1888 of old age (85) according to Loudoun County Death Register , by Frain and Cook, the person attesting was "Presley (Preston) Roberts - friend" . (her son-in-law)

Another piece of the puzzle supplied by Pat Duncan, who writes books on genealogy, from the Loudoun county archives.

>From the 1870 Loudoun Co Federal Census:

page 143, Northern District near Wood Grove, #1438

Presley Roberts, 54y mulatto, stonemason $400 real estate, $100 personal estate, born VA, cannot read/write

Milly Roberts 37y black, keeping house, born VA, cannot read/write

John Roberts 3y mulatto, born VA

Lewis Roberts 2y mulatto, born VA

Neally Weaver 65y black, at home, born VA, cannot read/write

Lewis Weaver 70y black, lavorer [laborer?], born VA, cannot read/write

Dennis 23y black, laborer, born VA

John Johnson 23y black, school teacher, born VA





From "Loudoun Co Birth Register 1853-1879" by Pat Duncan:

Arthur Roberts, colored male, b. 22 May 1877 nr Snickersville, father- Presley Roberts a stone fencer Snickersville, mother- Milly Roberts, informant- P. Roberts, father

Dennis Presley Roberts, colored female [male?], b. 14 Jul 1872 at Mt. Gilead township, father- Preston Roberts a stonemason at Mt. Gilead township, mother- Millie Roberts, informant- Millie Roberts, mother

Hannah J. Roberts, colored female, b. 12 Dec 1873 at Conard's Tanyard, father- Presley Roberts a stonemason at Conard's Tanyard, mother- Mollie Roberts, informant- father and mother

>From "Loudoun Co. Marriages after 1850, Vol 1, 1851-1880" by Duncan and Frain:

Presley Roberts & Amelia Weaver, m. 21 Dec 1865 in Leesburg, groom- free negro, son of Ralf & Anna Roberts, 45y old, single, born and resides in Loudoun, laborer; bride- daughter of Lewis & Delia Weaver, 30y old, single, born and resides in Loudoun, free negro Lewis Weaver attested to age; ceremony performed by William O. Robey [note: he was associated with the Mt. Zion United Methodist Church]

I have a book on Mt. Zion Cemetery, and none of the above are listed in it. They are also not listed in any of the other cemetery books that I have. There are some separate black cemeteries, but by the 1900's I believe that they were buried wherever they wanted.

According to my book "Loudoun Co Will Book Index, 1757-1946" there is a Delia Weaver of Bluemont, will in book 3X:, page 424, which was recorded in court January 1935.


The 1880 Census incorrectly lists the family as "Robison". I have found that the spelling and recording errors in early census records make it very difficult to find ancestors - but if you use Soundex, and also look through the town and county records carefully, your family will turn up.

Presly ROBISON Self M M MU 64 VA Occ: Day Labor Fa: VA Mo: VA

Milly ROBISON Wife F M B 45 VA Occ: Keeps House Fa: VA Mo: VA

John F. ROBISON Son M S MU 13 VA Occ: Home

Lewis H. ROBISON Son M S MU 11 VA

Dennis P. B. ROBISON Son M S MU 8 VA

Hannah J. ROBISON Dau F S MU 6 VA

Martha A. ROBISON Dau F S MU 5 VA

James ROBISON Son M S MU 3 VA

Joseph W. ROBISON Son M S MU 10M

Adele WEAVER GMother F W B 72 VA Fa: VA Mo: VA

I am also seeking information about relatives with the surname Scipio - since I have been told that both the Roberts' and my grandmother Ella Mae Williams (Dennis' wife) were distant cousins - related through the Scipio's - and have recently learned more about the Scipio connection after a trip to do research in Loudoun county.

On that trip I acquired the most precious gift of all - we visited our cousin Martha in Washington DC - and there we found the Robert's family bible - which I took photos of:

death records birth records marriage records

These new pieces of information - birth, marriage and death records raised new questions.

Listed on the birth records are the children of Maria Jane WEAVER (my great-grandmother's sister) and Richard JACKSON.

Here is the marriage record:

Richard JACKSON & Maria WEAVER, m. 2 Dec 1869, groom- 21y, single, born and resides in Loudoun, laborer, son of Henry & Betsy Jackson; bride- 21y, single, born and resides in Loudoun, daughter of Lewis & Delia Weaver; ceremony performed by Jesse Porter

Their children are :

William H (1880-), Mary M (1882-) John L. (1883-) Dealia Elizabeth (1886-) Ida Anneliza (1889-1925). Ida Anneliza is listed on the page listing deaths as:

Ida Anneliza Jackson VENABLE GIBSON - so she married twice - where? I have searched Loudoun records, Washington DC records and national census indexes but have found no trace of this family of JACKSON cousins.

The more family research you do, the more puzzles you find. I hope someone can find this family for me.

If you are searching for ancestors who were slaves don't be discouraged. There is a lot of information out there, and more and more becomes available every day. I suggest that you post your queries and share your research with us at the AfriGeneas Slave Research Forum.

If you have any more information on the Roberts', the Weaver's or related families please feel free to contact me at DOlivervelez@hvc.rr.com
Click this lantern to go to the next page: The Williams' and the Payne's