Denise's Ancestors
The Jackson's
of Snickersville, Bluemont, Loudoun county VA
I am currently beginning to piece together the relationship of my Roberts family - to two sets of Jackson's in the Snickersville area.
As it stands - I do know that my great great grandparents Lewis and Nellie (or Amelia) Weaver had a daughter Maria Weaver, sister to my great grandmother Amelia Weaver.
Maria was born in 1848 in Loudoun, and her birth is recorded in our family bible.
Maria Weaver married Richard Jackson (see Jackson slave narrative) on Dec. 2, 1869 in Loudoun. Richard Jackson's sister Rose married Christopher Scipio, which is how we became cousin's to the Scipio's on one side of the family.
Maria and Richard Jackson had several children.
Recorded in the family bible are these births: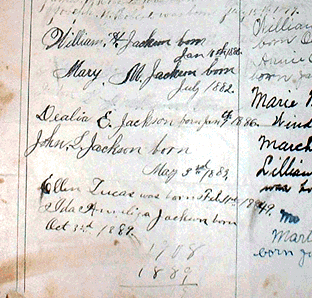 William H. Jackson either 1880 or 1886
Mary M. Jackson, b. 1882
Delia E. Jackson b. Jan 7th 1886
John L Jackson b. May 3rd 1887
Ida Anneliza Jackson b. Oct 3rd, 1889
There are two deaths recorded.
Maria Jackson:

Died Dec 31, 1919
and Ida Anneliza Jackson Venable Gibson
Died Dec. 1925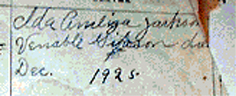 All of these JACKSON'S were a mystery to me.

I know they were close enough kin to be recorded in the family bible.

I had no idea what happened to any of them - or when they left Loudoun county. I found no record of their births in Loudoun. Just the marriage.

It was clear from Ida Anneliza's death notation that she married twice - once to a VENABLE and last to a GIBSON.

Then one day - scouring the census for the umpteenth time I found the following record:

JACKSON, MARIA (1910 U.S. Census)
New Jersey , ESSEX, 4-WD MONTCLAIR, Age 60, Female, Race: Black, Born: VA
Series: T624 Roll: 883 Page: 280

My grandfather - her nephew, was in Montclair in 1910 - as was my grandmother!

Listed in this household are a widowed Maria, age 60 (2 years off)
son Louis (no Louis or Lewis is listed as born in family bible but Maria's father was named Lewis and she had a son named John Lewis
daughter Ida Venable, married 1 child born - age 20 born OHIO.
G-Son Charles Venable 5 - born NJ.

Living in the house is a 48 year old widowed "boarder" named Robert GIBSON, from Florida.

I now have to look for a marriage record for Ida to this Gibson widower.

I also need to see if I can find a record of Ida's birth in Ohio - but have no idea where to start looking - I don't see Richard or Maria in census records for Ohio.

Since I have a death date for Maria - I now know where to look for a record.

Below is the descendant report, starting with Richard Jackson's parents:

Descendants of Henry Jackson

Generation No. 1

1.

HENRY2 JACKSON (?1) was born 1820. He married BETSY ELIZABERTH (no maiden name known yet). She was born 1822.

Children of H

ENRY JACKSON and BETSY ELIZABERTH are:
2. i. MARIA

3 JACKSON, b. 1849.

3. ii. RICHARD JACKSON, b. 1848, Loudoun County, Virginia.

4. iii. ROSE JACKSON, b. 1856.

iv. J.W. JACKSON.

v. JOHN JACKSON.

Generation No. 2

2.

MARIA3 JACKSON (HENRY2, ?1) was born 1849. She married CALVIN NICKENS January 20, 18701, son of LEWIS NICKENS and ELIZA. He was born 1847.

More About C

ALVIN NICKENS and MARIA JACKSON:

Marriage: January 20, 18701

Children of M

ARIA JACKSON and CALVIN NICKENS are:
i. MARIA VIRGINIA

4 NICKENS, b. 1872.

ii. LEWIS NICKENS, b. 1873.

iii. WILLIAM NICKENS, b. 1875.

iv. EMMA NICKENS, b. 1880.

3.

RICHARD3 JACKSON (HENRY2, ?1) was born 1848 in Loudoun County, Virginia. He married MARIA JANE WEAVER December 02, 1869 in Loudoun County, Virginia2, daughter of LEWIS WEAVER and DELIA NEALLY. She was born 1848.

More About R

ICHARD JACKSON and MARIA WEAVER:

Marriage: December 02, 1869, Loudoun County, Virginia2

Children of R

ICHARD JACKSON and MARIA WEAVER are:
i. WILLIAM H4 JACKSON, b. 1880.

ii. MARY M JACKSON, b. 1882.

iii. DELIA ELIZABETH JACKSON, b. 1886.

iv. JOHN L JACKSON, b. 1887.

v. IDA ANNELIZA JACKSON, b. 1889.

4.

ROSE3 JACKSON (HENRY2, ?1) was born 1856. She married CHRISTOPHER SCIPIO December 17, 1874 in Loudoun County VA3, son of JOHN SCIPIO and ANN. He was born 1851.

More About C

HRISTOPHER SCIPIO and ROSE JACKSON:

Marriage: December 17, 1874, Loudoun County VA3

Children of R

OSE JACKSON and CHRISTOPHER SCIPIO are:
5. i. LELA

4 SCIPIO, b. 1876.

ii. JOSHUA SCIPIO, b. 1877.

iii. SALLY SCIPIO, b. 1880.

iv. HENRY SCIPIO, b. 1882.

v. ROBERT SCIPIO, b. 1885.

vi. SARAH SCIPIO, b. 1887; m. JIM HENDERSON.

vii. AMANDA SCIPIO, b. 1890; d. April 1987; m. James VALENTINE.

Notes for AMANDA SCIPIO:

My Aunt Mildred tells me that Amanda came and stayed with them for a period of time at the house at 1523 T street NW

More About AMANDA SCIPIO:

Burial: Rock Hill Cemetery

viii. BEATRICE SCIPIO, b. 1892.

ix. CHARLES SCIPIO, b. 1893.

x. NO NAME SCIPIO, b. 1900.

Generation No. 3

5.

LELA4 SCIPIO (ROSE3 JACKSON, HENRY2, ?1) was born 1876. She married RICHARD OSCAR CARTER, son of BURNELL CARTER and EMMA ANN. He was born 1878 in Warren, VA.

Children of L

ELA SCIPIO and RICHARD CARTER are:
i. GLOVIA

5 CARTER, b. 1902; m. JOHN SCOTT.

ii. ROSA LEE CARTER, b. January 29, 1904; d. 1999.

Notes for ROSA LEE CARTER:

Rosa stayed wit my family in DC whiole she was going to Howard University

iii. CHRISTOPHER CARTER, b. 1905.

Endnotes

1. Patricia B. Duncan & Elizabeth R. Frain, Loudoun County, Virginia Marriages After 1850 Volume 1, (Willow Bend Books, Westminister, Maryland 2000), 166.

2. Patricia B. Duncan & Elizabeth R. Frain, Loudoun County, Virginia Marriages After 1850 Volume 1, (Willow Bend Books, Westminister, Maryland 2000), 120, JACKSON, Richard & Maria WEAVER, 2 Dec 1869; Ldn; C; s/o Henry & Betsy JACKSON, 21 sgl, Ldn, Ldn, laborer; d/o Lewis and Delia Weaver, 21, sgl, Ldn,Ldn; 2 Dec 1869(I); Henry Washington, col'd(age); JP(off);nd(r).

3. Patricia B. Duncan & Elizabeth R. Frain, Loudoun County, Virginia Marriages After 1850 Volume 1, (Willow Bend Books, Westminister, Maryland 2000), 196, SCIPPIO, Christopher & Rose JACKSON; 17 Sep 1874; Ldn; C; s/o John & Ann SCIPPIO, 23, sgl, Ldn, Ldn, laborer; d/o Henry & Betsy JACKSON, 18,sgl,Ldn,Ldn; 17 Sep 1874(I); woman's father consented in writing, Rich Jackson proved man's age(age);AW(off).

Other Loudoun JACKSON families I'm related to:

Descendants of John Eli Jackson

1 John Eli Jackson 1842 -

.. +Julia Briggs 1856 -

........ 2 John W Jackson 1869 - 1902

............ +Alice Lelia Gregg 1877 -

........ 2 Caroline Jackson 1871 -

........ 2 Welby Jackson 1873 -

........ 2 James Jackson 1875 -

........ 2 Elnora Jackson 1876 -

........ 2 Jerry Jackson 1879 -

............ +Lina

................... 3 James W Jackson 1903 -

........ 2 Mary Jackson 1881 -

........ 2 Ernest Jackson 1885 -

............ +Bertha 1896 -

................... 3 Maxiline Jackson 1909 -

........ 2 Towney Jackson 1888 -

........ 2 William Jackson 1891 -

........ 2 Thomas W Jackson 1892 - Unknown

........ 2 Mary C. Jackson 1893 - Unknown

............ +Edwin Asa Williams 1892 - Unknown (this is the brother of my grandmother Ella Mae WILLIAMS)

........ 2 Eli Jackson 1894 -

Descendants of Smith Jackson

1 Smith Jackson

.. +Amanda

........ 2 William H. Jackson 1845 -

............ +Malinda Davis 1849 -

................... 3 David William Jackson 1871 -

....................... +Maggie L Washington

................... 3 Amy Jackson 1872 -

................... 3 Nancy Jackson 1878 -

....................... +Robert Berry

................... 3 Ada Jackson 1880 -

................... 3 Samuel L Jackson 1881 -

....................... +Edith

................... 3 Isaiah Jackson 1883 -

....................... +Mary G Taylor

................... 3 No Name Jackson 1885 - 1885

................... 3 Marie Jackson 1886 -

................... 3 Florence Jackson 1888 -

....................... +Edward Charles Bryant 1888 -

................... 3 Jessie Jackson 1891 -

........ 2 Henry Jackson 1847 -

............ +Susan Hunter 1855 -

................... 3 Henry Robert Jackson 1875 -

....................... +Mattie Briscoe 1876 -

............................. 4 Elsie Jackson 1899 - 1990

................................. +James Mayo Scott 1904 - 1979

........................................ 5 Virginia P Scott 1924 -

........................................ 5 Sherman E Scott 1927 -

........................................ 5 James E Scott 1930 -

........................................ 5 Marie Scott 1940 -

............................. 4 Katie Jackson 1901 -

............................. 4 Roy Jackson 1902 -

............................. 4 Earnest Jackson 1905 -

............................. 4 Donnie Jackson 1907 -

................... 3 Arthur Jackson 1876 -

................... 3 Mary E F Jackson 1877 -

........ 2 Andrew Jackson 1855 -

............ +Mary L Mason 1855 - (related to my great-grandfathers first wife Matilda MASON)

........ 2 Emily Jackson 1848 -

............ +Mason Hill

........ 2 Mary Jackson 1853 -

........ 2 Marshall Jackson 1859 -

............ +CW

................... 3 dau Jackson 1888 -

........ *2nd Wife of Marshall Jackson:

............ +Hulda Walker