Denise's Ancestor Pages:
The Roberts' Family
Roots in Loudoun County, Virginia
town of Bluemont, aka Snickersville
My mother Marjorie Weaver Roberts
b. 30 Apr 1918, Bronx, NY - d. 09 Feb 1999, Willow Grove, PA
married George Bodine Oliver 25 Jan 1943, Atlanta GA
My mother was the youngest of five children born to Dennis Presley Roberts and Ella Mae Williams, in 1918.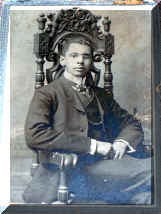 My grandfather Dennis Roberts and my grandmother Ella Mae Williams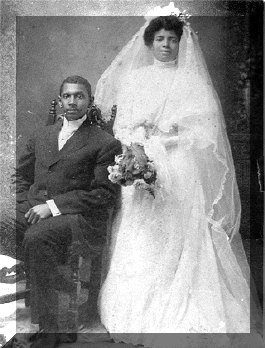 The other brothers and sisters were Donald, Ella Mildred, Dudley and Douglas who died at birth.
To see my Aunt Mildred Roberts Williams and her husband Louis Smith Williams and his ancestors in Chester County PA , MD, TX and LA, and some unidentified family photos click this lamp:
For the family of Dudley Roberts and his wife Naomi click this lamp: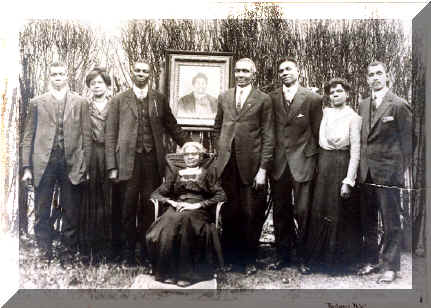 The Roberts Clan
My great grandmother Amelia (Millie) Weaver Roberts is seated in the chair, in front of a portrait of her husband, Presley Roberts. She was a slave, and her husband, Presley Roberts, was a freed slave, a stone mason, who waited for Emancipation to marry her. I have recently discovered information on the emancipation and the slaveholders of my great grandfather Presley Roberts.
They lived in the town of Snickersville, now known as Bluemont, VA in Loudoun County.
What I do know from family stories is that she was a midwife, and was famous for healthy deliveries and healthy mothers, who never died of childbed fever. My Aunt Mildred told me that great grandmother Mildred boiled everything - sheets, towels, and sterilized her birthing instruments in the oven instruments - at a time when many doctors never even washed their hands before touching a patient. Her clients were both black and white.
Her seven sons and daughters are beside her. From left to right are Henry, Martha, Joseph, John, James, Hannah and my grandfather Dennis. Dennis graduated from Wayland Seminary (which merged with Virginia Union) in Washington DC in 1897. Aunt Hannah graduated from Virginia Union. We believe the photo below is of her graduating class and would love to hear from anyone who can identify others in the picture; Aunt Hannah is in the upper right hand corner:
Instead of becoming a minister, he went to work on ships, and then on the railroad - the New York - New Haven Connecticut line.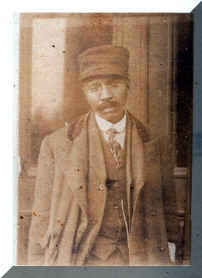 Dennis Presley Roberts
Dining car waiter on the New York , New Haven and Hartford Railroad
My aunt Mildred has told me stories about riding the train, and eating in the dining car. She remembers riding from New York to Philadelphia, eating a full course meal served with cloth napkins on linen table cloths. Sometimes the trains went on into the South. The train had a curtain, which was pulled once it crossed the Mason-Dixon (Jim Crow) line, to screen black diners off from white view.
Ironic that white diners could eat food prepared and served by black hands, but weren't supposed to sit at tables together.
Dennis Roberts, using the money he made on the trains, and wisely investing in real estate, took charge of his younger brothers and sisters and assisted them in completing college. Joseph Walker Roberts graduated from Howard University Medical School, in 1907, and became a well-known doctor in Philadelphia.
Great Uncle Joseph Walker Roberts when he graduated from Howard University Medical School